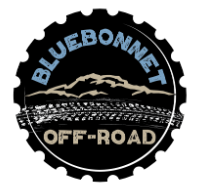 3/26/2022 - Off-Road Triathlon & Duathlon
After a 4 year hiatus, Bluebonnet Off-Road Triathlon and Duathlon is back at it's original venue, Reveille Peak Ranch. With over 60 miles of trails , RPR offers a unique and diverse trail systems that includes rugged granite outcrops, plenty of challenging climbs and fast downhills all set among some of the best views in the Texas Hill County.
This is the first of 5 races in the Texas Off-Road Multi Sport Association (TORMSA) series.
COVID PROTOCOLS:
Race will be capped at 100 racers.
We ask that participants bring face masks to wear during packet pick-up.
Participants and spectators should aim to keep at least 6 feet distance from other people.
Touchless water coolers will be available.
Sanitizing stations will be available near toilets, registration, aid stations and in the finish area.
Anyone who feels unwell should stay at home and stay away from the event.
Athletes racing must monitor their health status continuously from 14 days before the event.
ENTRY:
Individual/Aged-Based Category:
$90 through 2/20
$105 until close of online registration on 3/17 at 11:00 pm
$120 onsite registration
2-Person Relay:
$130 through 2/20
$145 until close of online registration on 3/17 at 11:00 pm
$160 onsite registration
3-Person Relay:
$170 through 2/20
$185 until close of online registration on 3/17 at 11:00 pm
$200 onsite registration
Duathlon Individual Category:
$80 through 2/20
$95 until close of online registration on 3/17 at 11:00 pm
$110 onsite registration
Duathlon 2-Person Relay
$120 through 2/20
$135 until close of online registration on 3/17 at 11:00 pm
$150 onsite registration
***Participant race day entrance fee into park is included in race entry***
All participants will receive an event t-shirt*, sponsor swag, aid stations stocked with water and Gatorade. Food and drinks will be available post-race with beer. *Entries received by March 4 are guaranteed an event shirt in the requested size. If you register after, limited sizes will be available, while supplies last. Please register early if an event shirt is important to you.
Event will be held rain or shine, no refunds. Registration insurance can be purchased when registering on Active.com.
SCHEDULE:
Friday, 3/19
Course open ALL DAY for pre-riding and running
5:30 -6:30 pm -Onsite registration and packet pick up at Reveille Peak Pavillion
Saturday, 3/20
7:15-8:30 am - Onsite registration and packet pick up at Reveille Peak Pavillion
7:15-8:45 am - Transition area open
8:50 am - Pre-race briefing
9:00 am - Race start time
12:15 pm - Awards and raffle. Participant's must be present to receive awards and raffle prizes. Awards will not be mailed.
COURSE DESCRIPTION:
Start with a 750 meter swim. Then continue to 13 miles of 90 percent single track trails with short steep climbs, rocky downhills and plenty of granite outcroppings to maneuver around. Next finish with a mostly flat 6K run weaving along the shore of the lake.
AID STATIONS:
Transition area: 1 aid station
Bike: 1 aid station that you will pass 3 times
Run: 1 aid station that you will pass 2 times.
Aid stations will have water, Gatorade, and snacks.
AWARDS:
1st-3rd overall male and female
1st-3rd place men and women age based categories: 14 & under, 15-19, 20-24, 25-29, 30-34, 35-39, 40-44, 45-49, 50-54, 55-59, 60-64, 65-69, 70-74, 75+
WETSUIT RULES:
USAT Competition Rules
1. Swim:
1.1. Wetsuits are allowed based on water temperature measured the day prior to the event and confirmed the day of the event. Where water temperatures are close to limits, the decision will be made one hour before the start of the first swim.
USAT Article IV, Swimming Conduct Rules
4.4. Wet suits. Each age group participant shall be permitted to wear a wet suit without penalty in any event sanctioned by USA Triathlon up to and including a water temperature of 78 degrees Fahrenheit. When the water temperature is greater than 78 degrees, but less than 84 degrees Fahrenheit, age group participants may wear a wet suit at their own discretion, provided however that participants who wear a wet suit within this temperature range shall not be eligible for prizes or awards.(Specifically: the athlete will not be eligible for XTERRA Points.)
Age group participants shall not wear wet suits in water temperatures equal to or greater than 84 degrees Fahrenheit. The wetsuit policy for elite athletes shall be determined by the USAT Athletes Advisory Council. The AAC has set the wetsuit maximum temperature for elite/pros at 68 degrees for swim distances less than 3000 meters and 71.6 degrees for distances of 3000 meters or greater. Effective January 1, 2013, any swimmer wearing a wetsuit with a thickness measured in any part greater than 5 millimeters shall be disqualified.
4.6. Measuring Water Temperature. It is recommended, but not required that the water temperature for a race be finally determined by a measurement made within 2 hours of the race start. A water temperature measurement should also be taken prior to any pre-race meetings in order to forecast to the athletes as early as possible the likely water temperature on race day and the likelihood of whether wet suits will be allowed on race day.