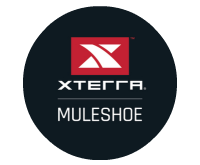 8/10 - XTERRA Muleshoe Off-Road Triathlon
Muleshoe Bend Recreation Area is located just outside of Spicewood, TX on the north shore of beautiful Lake Travis. The cedar-lined trail system includes limestone outcroppings and ledges, hairpin turns, gravel washes, compressed dirt, and rock paths. This is a fast course with some technical areas including a couple of off-camber vertical stair steps along the trail. The trail is challenging for all levels of riders and runners.
XTERRA Muleshoe is the final race in the 2019 Race Revolutions Off-Road Series.
ENTRY:
Individual/Aged-Based Category:
$85.00 until July 10
$95.00 until close of registration on August 7 at 11:00 pm
$115.00 onsite registration
2-Person Relay:
$125.00 until July 10
$135.00 until close of registration on August 7 at 11:00 pm
$155.00 onsite registration
3-Person Relay:
$145.00 until July 10
$155.00 until close of registration on August 7 at 11:00 pm
$175.00 onsite registration
***Participant race day entrance fee into park is included in race entry***
All participants will receive an event t-shirt*, sponsor swag, aid stations stocked with water and Gatorade. Food and drinks will be available post-race with beer provided by NXNW Austin. *Entries received by August 1 are guaranteed an event shirt in the requested size. If you register after, limited supplies will be available, while supplies last. Please register early if an event shirt is important to you.
Event will be held rain or shine. No refunds.
SCHEDULE:
Friday, 8/09/19
Course open ALL DAY for pre-riding and running
5:30-6:30pm - Onsite registration and packet pick up
Saturday, 8/10/19
6:30-7:45 am - Onsite registration and packet pick up
6:30-7:50 am - Transition area open
7:50 am - Pre-race briefing
8:00 am - Race start time
11:15 am - Awards and raffle. Participant's must be present to receive awards and raffle. Awards will not be mailed.
Sunday, 6/11
8:00 am - XTERRA trail runs
.
AWARDS:
1st-3rd overall male and female
1st-3rd place men and women age based categories: 14 & under, 15-19, 20-24, 25-29, 30-34, 35-39, 40-44, 45-49, 50-54, 55-59, 60-64, 65-69, 70-74, 75+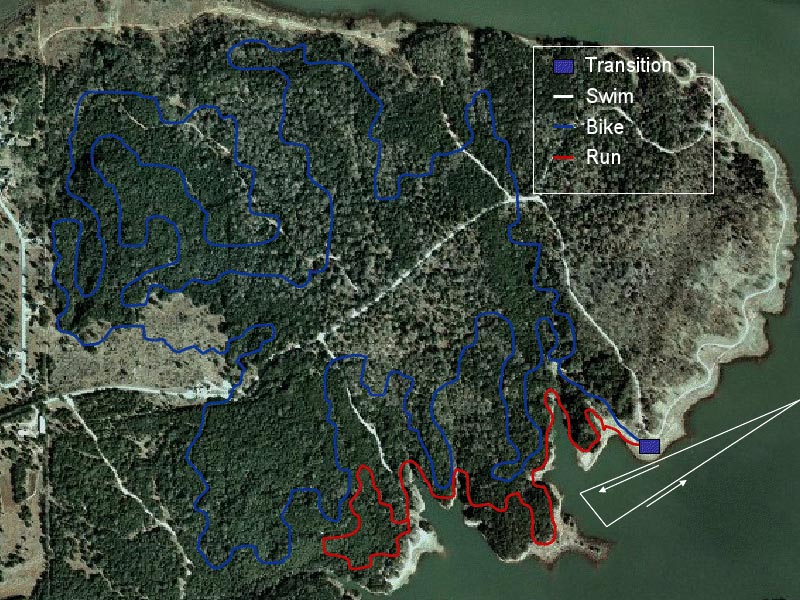 COURSE DESCRIPTION:
Start with an 800 meter swim in the waters of Lake Travis. After cooling off in the lake, ride 2 laps (14 miles) of twisty, mostly shaded single track. Next, run a 6K on a combination of single track, jeep roads, and improved gravel roads.
AID STATIONS:
Transition area: 1 aid station
Bike: 4 aids stations or 2 per lap. located at park entrance road crossing and Turner Farm Rd crossing
Run: 2 aid stations, located at Turn Farm Rd crossing
Aid stations will have water and Gatorade.
WETSUIT RULES:
XTERRA Competition Rules
1. Swim:
1.1. Wetsuits are allowed based on water temperature measured the day prior to the event and confirmed the day of the event. Where water temperatures are close to limits, the decision will be made one hour before the start of the first swim.
USAT Article IV, Swimming Conduct Rules
4.4. Wet suits. Each age group participant shall be permitted to wear a wet suit without penalty in any event sanctioned by USA Triathlon up to and including a water temperature of 78 degrees Fahrenheit. When the water temperature is greater than 78 degrees, but less than 84 degrees Fahrenheit, age group participants may wear a wet suit at their own discretion, provided however that participants who wear a wet suit within this temperature range shall not be eligible for prizes or awards.(Specifically: the athlete will not be eligible for XTERRA Points.)
Age group participants shall not wear wet suits in water temperatures equal to or greater than 84 degrees Fahrenheit. The wetsuit policy for elite athletes shall be determined by the USAT Athletes Advisory Council. The AAC has set the wetsuit maximum temperature for elite/pros at 68 degrees for swim distances less than 3000 meters and 71.6 degrees for distances of 3000 meters or greater. Effective January 1, 2013, any swimmer wearing a wetsuit with a thickness measured in any part greater than 5 millimeters shall be disqualified.
4.6. Measuring Water Temperature. It is recommended, but not required that the water temperature for a race be finally determined by a measurement made within 2 hours of the race start. A water temperature measurement should also be taken prior to any pre-race meetings in order to forecast to the athletes as early as possible the likely water temperature on race day and the likelihood of whether wet suits will be allowed on race day.
CONTACT:
Joel Grimmett at joel@racerevolutions.com